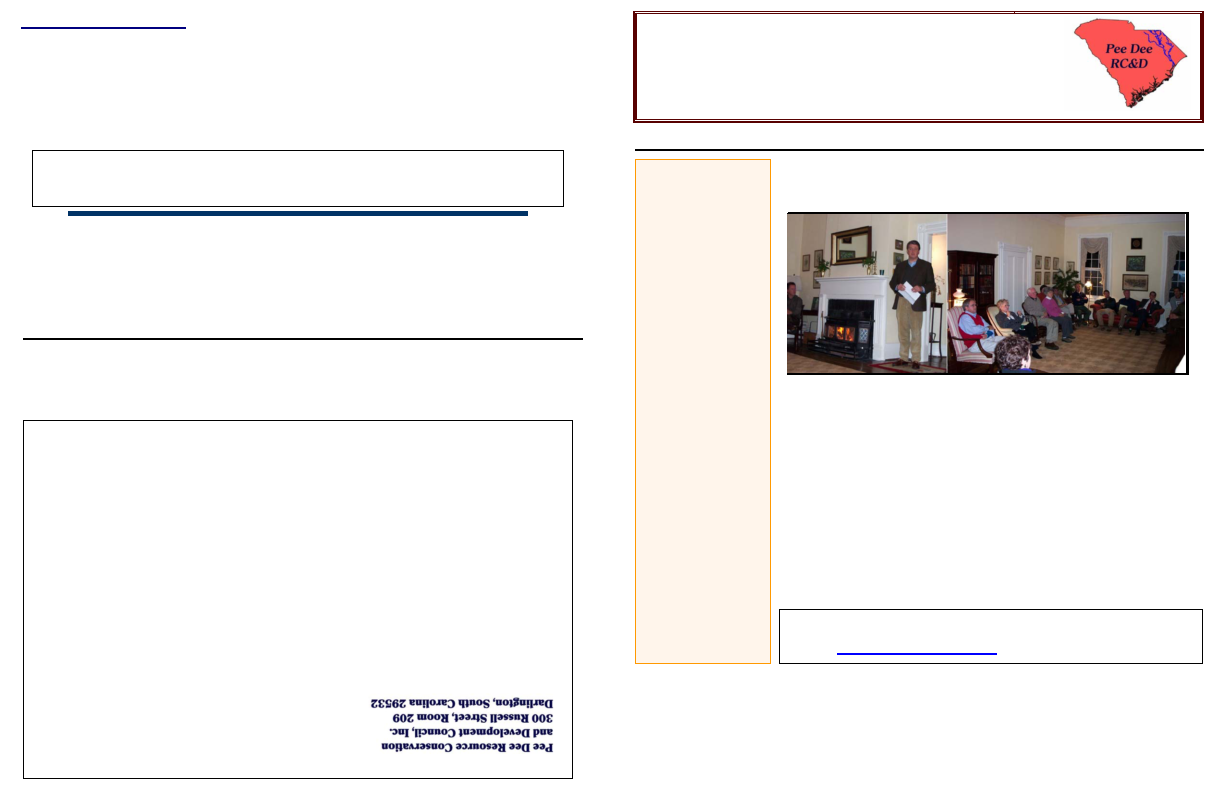 THE PEE DEE PROGRESS PAGE 4
The Pee Dee Progress
Published Quarterly by the Pee Dee
Resource Conservation and Development 
Southeastern Association of RC&D Councils Convened in SC 
Serving the Counties of
Area Council, Incorporated. A Private 
The South Carolina RC&D Council hosted the Southeastern Association Conference at the Wyndham 
Chesterfield  Darlington  Dillon   
501 (C) 3 Nonprofit Organization
Marion  Marlboro
Resort in Myrtle Beach, October 9 12, 2002. The Pee Dee RC&D had seven representatives in attendance. 
Website    www.peedee.org 
300 Russell Street, Room 209
Attendees from 10 southeastern states learned of the various projects being implemented across the 
Email       rcd@peedee.org
Darlington, South Carolina 29532 
Southeast. Tours were conducted at the Horry County Solid Waste Authority, Grand Strand Sewer and 
 (843) 
393 9809
Water, and a Power For Wildlife site representing the SC Statewide Power for Wildlife program in which 
private landowners are compensated for maintaining utility right of ways. 
December 2002
Winter Edition
                                                                Volume 3  Issue 2
The Pee Dee RC&D is grateful to the local Conservation Partnership; including the NRCS Field Staff, the 
Soil and Water Conservation District Commissioners and Staff, SC Department of Natural Resources Field 
Pee Dee Land Trust Hosts a Landowner Meeting 
In This Issue 
Staff, and Citizen Volunteers. Without the support and efforts of the Partnership, many of these projects which 
we coordinate would not exist.
in Darlington with the American Farmland Trust
Pee Dee Land Trust  hosts a 
Pee Dee Resource Conservation and Development Area Council, Incorporated 
landowner meeting on 
Farmland Protection.  Page 1.
                   Chesterfield           Darlington              Dillon 
  Marion 
      Marlboro 
Staff 
Pee Dee Watershed Plan 
Cecil Kimrey 
Joyce 
Bill Aston
Jasper Eaddy, 
Bunyon Anderson, 
David Arthur, 
Implementation Project is 
Franklin, 
Chairman 
Vice Chairman 
RC&D Coordinator 
Approved by Governor 
Cherry McCoy 
Treasurer 
Johnnie 
Hodges.  Page 1. 
Luehrs
Andrew Eaddy 
Anna Hubbard 
Sharon DeWitt, 
Larry Stegner 
Mike Smith 
Administrative 
Arbor Day  Program at St. 
Kent Williams
Marion Wright, Jr.
Assistant
Roosevelt 
Hartsell 
Johns Elementary School 
Wallace
Rogers, Jr.
Nature Center Project in 
All programs and services of the Pee Dee Resource Conservation and Development Area Council  are offered on a nondiscriminatory basis without regard 
Darlington      Page 2. 
to race, color national origin, religion, sex, age, marital status or handicap.                     
Pee Dee Regional Urban and 
Community Forestry Project 
is underway.  Page 3. 
Ben Zeigler,  Pee Dee Land Trust Board Member, (standing) and Myra Lemburg, 
American Farmland Trust,  (lower center), provided farm land protection easement 
Thompson Creek Water 
information to approximately 25 Pee Dee Area landowners at Oaklyn Plantation. 
Quality Project Nears 
Completion in Chesterfield. 
Ann Williamson, Pee Dee Land Trust Board Member, and her husband Ben 
Page 3. 
Williamson provided their home at Oaklyn Plantation as the venue for a Pee Dee Land 
Pee Dee Cultural Heritage 
Trust Landowner Meeting on Wednesday evening December 4th.  Information on 
Project Puts Historical 
conservation easements and the easement donation process/benefits was presented to 
Marker Information on the 
area landowners. Describing the role of the Pee Dee Land Trust, Ben Zeigler stated, 
Internet.  Page 3. 
 The Pee Dee Land Trust is about community based conservation. It is about 
communities and the people within them coming together to work for responsible and 
Interactive County Road 
Maps with new road names 
sustainable land use. It is about helping the people of this region to recognize the value 
are developed by the Pee Dee 
of our undeveloped land as a resource, something that is essential to a decent quality 
RC&D.   Page 3. 
of life, and to understand that how we treat the land, in many ways defines who we 
are. The Pee Dee Land Trust operates on the premise that the land is a community to 
Pee Dee Council Members 
which we all belong.  
attend the Southeastern 
RC&D Conference in Myrtle 
Beach. Page 4. 
For Information concerning the tax benefits of donating land or conservation 
easements, and the many options available to the donor, visit 
Current Efforts  Page 2.   
http://peedeelandtrust.tripod.com
  or call (843) 393 9809 ext. 4. 
Pee Dee RC&D Watershed Proposal Submitted to EPA by Governor  
The Pee Dee Resource Conservation and Development Council (Pee Dee RC&D) is dedicated to the protection 
and enhancement of water quality and watershed health in the Pee Dee Region of South Carolina. We recently 
submitted a Watershed Initiative Project proposal for the Pee Dee Watershed of South Carolina in response to the 
call for nominations for the Watershed Initiative [FRL 7262 8] sponsored by the Environmental Protection 
Agency (EPA). Our proposal was selected by Governor Hodges as one of two which SC is allowed to submit to 
EPA for regional and national consideration.