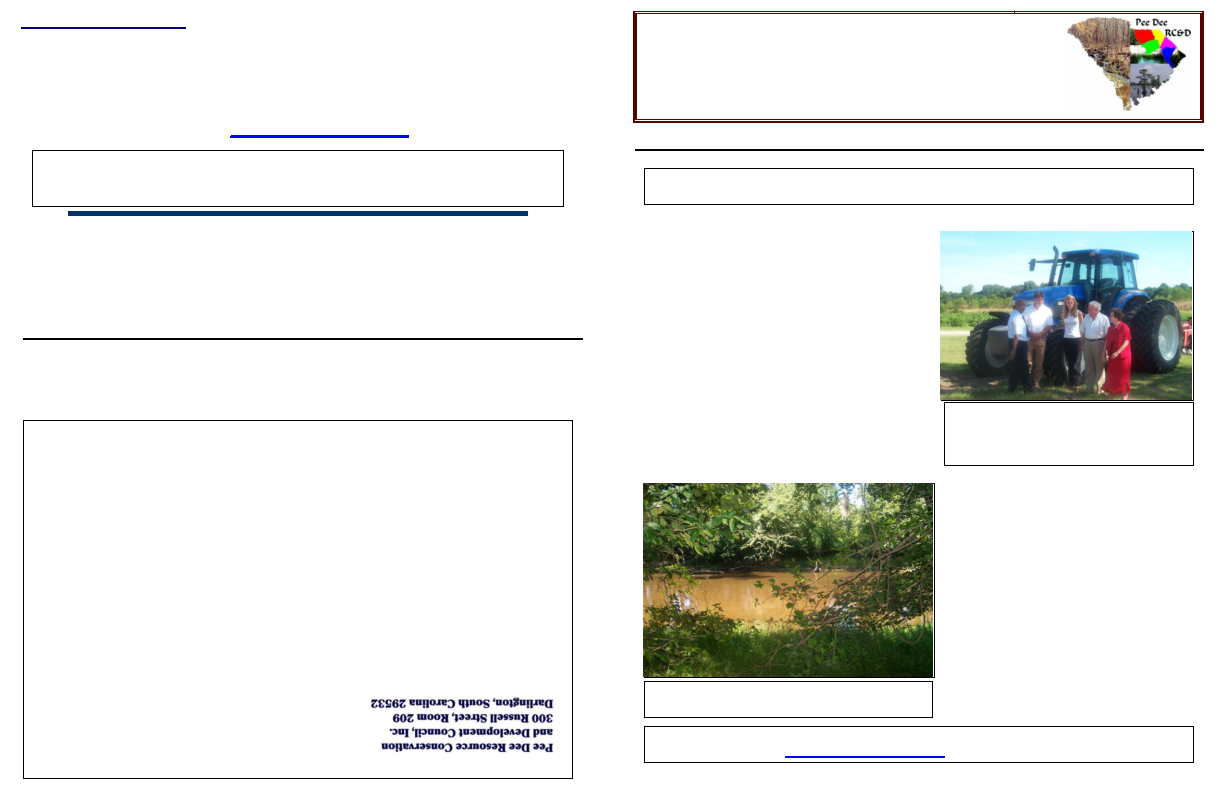 THE PEE DEE PROGRESS PAGE 4
The Pee Dee Progress
Published Quarterly by the Pee Dee
Resource Conservation and Development 
Southeastern Association of RC&D Councils to Convene in SC 
Serving the Counties of
Area Council, Incorporated. A Private 
The South Carolina RC&D Council is hosting the Southeastern Association Conference this October. The 
Chesterfield  Darlington  Dillon   
501 (C) 3 Nonprofit Organization
Marion  Marlboro
seven councils in South Carolina are diligently preparing for this event with the effort being led by the 
Website    http://pdrcd.tripod.com 
300 Russell Street, Room 209
Santee Wateree Council. The conference will be conducted at the Wyndham Resort in Myrtle Beach, 
Email       pdrcd@hotpop.com
Darlington, South Carolina 29532 
October 9 12, 2002. All South Carolina RC&D Council Members are encouraged to participate by 
 (843) 
393 9809
contributing their time and talents to make this a memorable experience for our visitors. Information is 
available on the conference website at:  
http://scrcd.tripod.com/SE2002.html
 September 2002
Fall Edition
                                                                  Volume 3  Issue 1
The Pee Dee RC&D is grateful to the local Conservation Partnership; including the NRCS Field Staff, the 
Soil and Water Conservation District Commissioners and Staff, SC Department of Natural Resources Field 
Staff, and Citizen Volunteers. Without the support and efforts of the Partnership, many of these projects which 
Pee Dee Land Trust Accepts Property Bordering Lynches River 
we coordinate would not exist.
Pee Dee Resource Conservation and Development Area Council, Incorporated 
The one thing God did not give Rivers and Evelyn 
                   Chesterfield           Darlington              Dillon 
  Marion 
      Marlboro 
Staff 
Scarborough in 62 years of marriage was children. Now, 
in their golden years they were faced with a large, 
Cecil Kimrey 
Joyce 
Bill Aston
Jasper Eaddy, 
Bunyon Anderson, 
David Arthur, 
Franklin, 
Chairman 
Vice Chairman 
RC&D Coordinator 
successful farm and no heirs to leave their land. "We tried, 
Cherry McCoy 
Treasurer 
Johnnie 
but the Lord just saw fit for us to not have children," 
Leuhrs
Andrew Eaddy 
Anna Hubbard 
Sharon DeWitt, 
Larry Stegner 
Mike Smith 
Administrative 
Evelyn said. The Scarboroughs owned the Egg and I farm 
Kent Williams
Marion Wright, Jr.
Assistant
in Lamar, one of the largest independent egg producers in 
Roosevelt 
Hartsell 
Wallace
Rogers, Jr.
the world. When they sold it earlier this year, the farm had 
All programs and services of the Pee Dee Resource Conservation and Development Area Council  are offered on a nondiscriminatory basis without regard 
a million chickens producing 10,000 cases of eggs a day, 
to race, color national origin, religion, sex, age, marital status or handicap.                     
which translates to roughly 1.6 billion eggs a year.  They 
recently sold the egg producing part of the Darlington 
County farm to a Japanese agricultural company. In 
August, the remaining land was donated to the Pee Dee 
Land Trust, a private, non profit agency that works to 
Pictured Left to Right: Jasper Eaddy, Chairman of 
conserve land throughout the Pee Dee area. The 
the Pee Dee Land Trust; Kent Segars, Pee Dee Land 
Trust; Leigh Edwards, Palmetto Conservation 
Scarboroughs gave away 668 acres, some of which runs 
Foundation; Rivers and Evelyn Scarborough. 
along the Lynches River adjacent to Lee County.  
Some of the land had been in their families since 
South Carolina was first settled under King 
George of England. For Darlington, Lee and 
Sumter County residents, the donation helps to 
preserve the quality of the Lynches River and 
limits development upstream. The Lynches River 
is on the Sierra Club s list of Special Places in 
South Carolina. The donated land is sandwiched 
between Lee State Park upstream and Lynches 
River State Park downstream. Knowing the land 
would be taken care of was a great relief for the 
Scarboroughs. Rivers Scarborough said that after 
considering all the options, he feels the life estate 
method the best for him, his wife and their 
property. "This land will be here long after we 
Lynches River, viewed from the property donated by 
are gone, and I feel good knowing that future 
Rivers and Evelyn Scarborough of Darlington County. 
generations will see it just as it is now," he said. 
For Information concerning the tax benefits of donating land or conservation easements, and the many options 
available to the donor, visit 
http://peedeelandtrust.tripod.com
  or call (843) 393 9809 ext. 4.