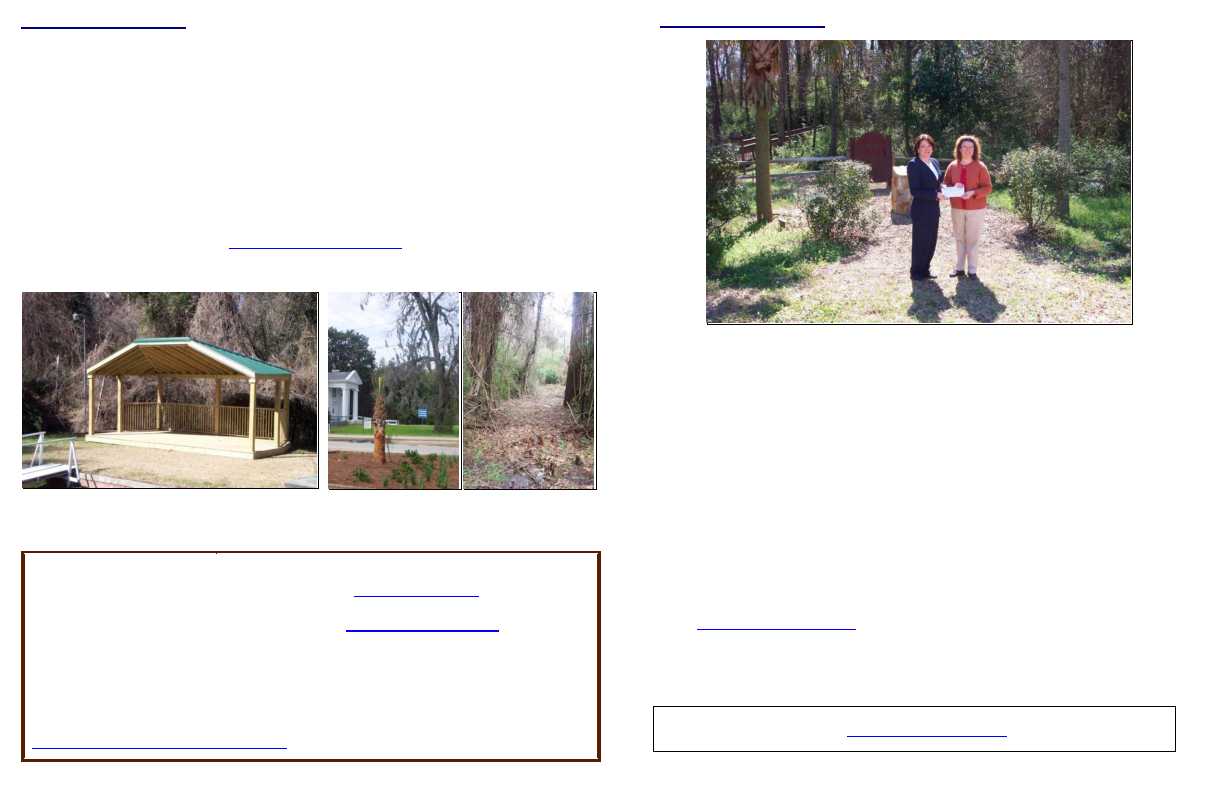 THE PEE DEE PROGRESS PAGE 
2
THE PEE DEE PROGRESS PAGE 
3
Construction at St. John's Elementary School Nature Center 
The Pee Dee RC&D has assisted the Darlington Soil and Water Conservation District in obtaining an Urban and 
Community Forestry Grant from the South Carolina Forestry Commission. This grant is being used to establish a 
nature center at the St. John's School in Darlington.  Recent additions to the project are the Amphitheater 
Stage/Pavilion which will be used for outdoor classes as well as a stage area for the amphitheater; trail clearing by 
the community service program of the Darlington City Police Department; and planting of a Palmetto (SC State 
Tree) and other plant materials at the St. John's Street Trail Head. 
Other components of this project include the establishment of nature trail boardwalks, tree identification signage,  
development of a website for the nature center, development of a nature center curriculum, and publishing an 
informational brochure. 
For more information visit the project website which is  under construction  at: 
http://stjohnselementary.tripod.com 
Progress Energy (formerly Carolina Power and Light) Provides Grant 
to 
Baker's Trail
 at Blenheim School 
Baker's Trail, which is a continuing project for environmental education, has received additional funding in the 
form of a cash grant from Progress Energy. Mindy Iseman of Progress Energy (left) presented a check at the 
project site in Blenheim on Monday March 24 to Mandy Hilliard (Blenheim PTO). These funds will be used to 
plant additional native tree varieties and place variety identification signage  for the project's arboretum. Previous 
contributors to this project include, the SC Forestry Commission's Urban Forestry Program, the Town of 
Blenheim, Marlboro Soil and Water Conservation District, Southern States Corporation,  International Paper 
Foundation, Weyerhaeuser Corporation, and Marlboro County Public Works, along with community and student 
volunteers. 
Baker's Trail 
consists of almost two miles of trail with over three hundred feet of boardwalk,  a 
Amphitheater Stage/Pavilion which was recently added to 
St. John's Street Trail 
Nature Trail is being 
greentree reservoir, an amphitheater, a pavilion, an observation deck,  kiosk, a gazebo, and an arboretum. The trail, 
the existing amphitheater built by the Works Progress 
Head is being established 
cleared with help from 
which connects the school campuses is used by students from Blenheim Primary, Elementary, and Middle 
Administration in the 1930s. 
with plantings. 
the Darlington City 
Schools.  The trail is also available to the citizens of the community as an environmental resource and exercise 
Police Department 
facility. 
Current Efforts of the Pee Dee RC&D 
Pee Dee Land Trust Membership Meeting Planned 
  Mullins Urban Forestry Education Project   Adding educational components to UF sites in Mullins, kiosk etc. 
  Roadside historical markers of the Pee Dee   website development in progress
www.peedee.org/heritage.html
The Pee Dee Land Trust is planning a social and educational event for late June at the Kalmia  Gardens of 
  Soil Surveys on  Compact Disk   Digital soil surveys in an easily accessible user friendly format    Ongoing 
  St. John's School Nature Trail (Darlington)   Urban Forestry Grant funding for an outdoor classroom   In Progress 
Coker College in Hartsville. Current plans include a Sunday afternoon picnic lunch and nature walk with Rudy 
  Pee Dee Urban Forestry Awareness Project   Currently in progress. Website 
http://peedeeurbanforestry.tripod.com
Mancke (
http://swcs.tripod.com/rudy.html
 ), other presenters to be determined. This event is open to Pee Dee 
  McColl Elementary School Nature Center   Planning underway. 
Land Trust members and perspective members. Information on this planned event will be posted on the Trust's 
  POWER for Wildlife   Three FY 2003 Applications submitted. 
website as it becomes available. Use the contact information below if you would like to be added to the Pee 
  Rural Fire Protection Water Storage Tanks (Dillon)   Tanks being installed and fitted with hydrant heads. 
Dee Land Trust mailing list.  
  Dry Fire Hydrants (Darlington)   Additional hydrants being installed in the Hartsville area. 
  Thompson Creek TMDL Project (Chesterfield)   Final report has been submitted for approval.    
  Trail and tree identification signs   Signs are being produced for projects across the state. Signs produced for Conway Riverwalk. 
  Pee Dee Geographic Information   Current Emphasis is on developing an comprehensive Water Quality Plan for the Pee Dee.. 
  Cheraw Intermediate School     Assisting the Chesterfield County School District with development of an outdoor classroom. 
For Information concerning the tax benefits of donating land or conservation easements, and the many 
The Pee Dee Regional Trails Plan Implementation   The plan was recently presented to the public and is available on the internet at: 
options available to the donor, visit 
http://peedeelandtrust.tripod.com
  or call (843) 393 9809 ext. 4. 
http://www.palmettoconservation.org/pee_dee_trail_plan.html  
 (all spaces in the URL are underscores).