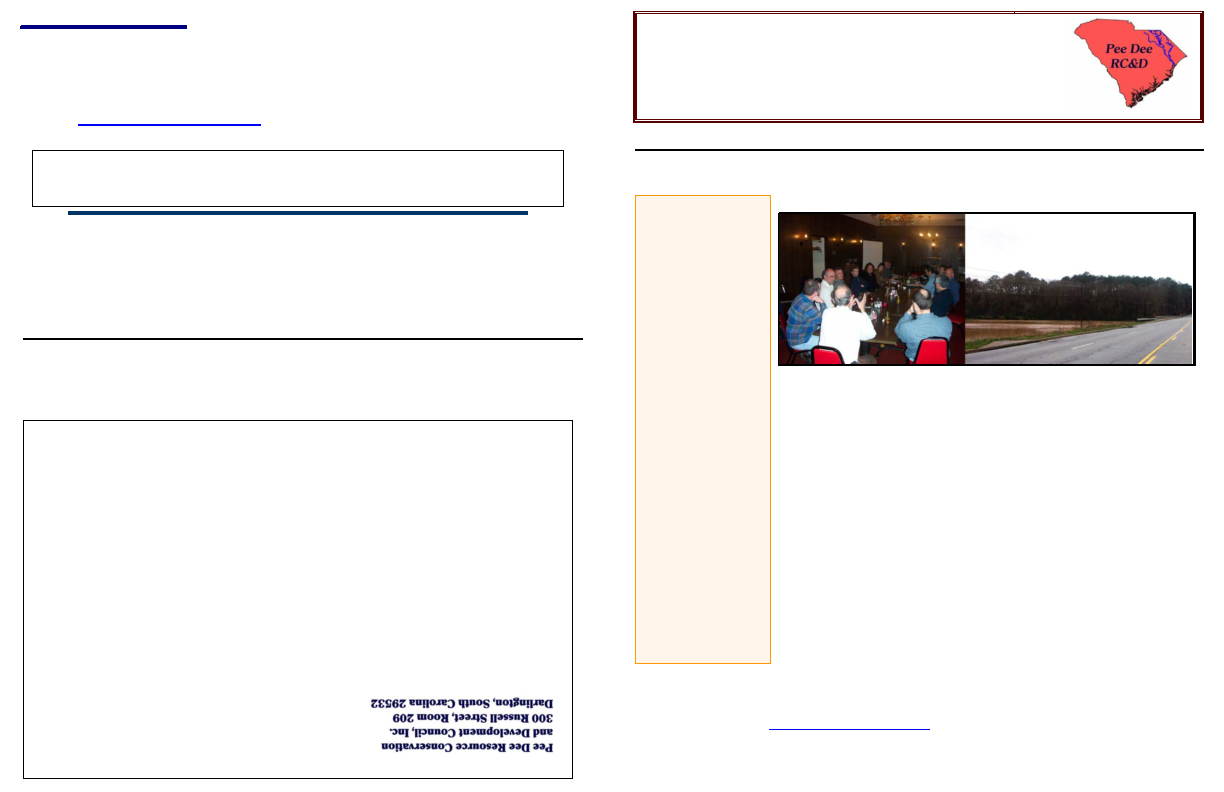 THE PEE DEE PROGRESS PAGE
4
Published Quarterly by the Pee Dee 
The Pee Dee Progress
Resource Conservation and Development 
Area Council, Incorporated. A Private 
Serving the Counties of 
Chesterfield  Darlington  Dillon   
501 (C) 3 Nonprofit Organization
Pee Dee Regional Urban Forestry Awareness  
Marion  Marlboro
Website    www.peedee.org 
300 Russell Street, Room 209 
The Pee Dee RC&D has received a grant from the Urban and Community Forestry Program of the South 
Email       rcd@peedee.org
Darlington, South Carolina 29532 
Carolina Forestry Commission for a regional urban forestry awareness project. Visit the project website at: 
 (843) 
393 9809
http://peedeeurbanforestry.tripod.com 
March 2003
Spring Edition
                                                                Volume 3  Issue 3
The Pee Dee RC&D is grateful to the local Conservation Partnership; including the NRCS Field Staff, the 
Soil and Water Conservation District Commissioners and Staff, SC Department of Natural Resources Field 
Thompson Creek 
Staff, and Citizen Volunteers. Without the support and efforts of the Partnership, many of these projects which 
we coordinate would not exist.
Water Quality Non point Source Assessment 
In This Issue
Pee Dee Resource Conservation and Development Area Council, Incorporated 
                   Chesterfield           Darlington              Dillon 
  Marion 
      Marlboro 
Staff 
Thompson Creek Water 
Cecil Kimrey 
Joyce 
Bill Aston
Jasper Eaddy, 
Bunyon Anderson, 
David Arthur, 
Quality Non point Source 
Franklin, 
Chairman 
Vice Chairman 
RC&D Coordinator
Assessment Project presents 
Cherry McCoy 
Treasurer 
Johnnie 
findings to sponsors. 
Luehrs
Andrew Eaddy 
Anna Hubbard 
Sharon DeWitt, 
Larry Stegner 
Mike Smith 
Administrative 
Planning initiated for an 
Kent Williams
Marion Wright, Jr.
Assistant
implementation phase of the 
Nancy Lee
Hartsell 
project.  Page 1. 
Rogers, Jr.
All programs and services of the Pee Dee Resource Conservation and Development Area Council  are offered on a nondiscriminatory basis without regard 
to race, color, national origin, religion, sex, age, marital status or handicap.                     
Construction continues at St. 
John's Elementary School 
Nature Center Project in 
Recent rains caused flooding along Thompson Creek as representatives of Local, Federal, 
Darlington.      Page 2. 
and State agencies from North and South Carolina met in Chesterfield, SC on March sixth, 
to discuss the
Assessment Project results and plan an implementation phase based on 
current project findings.  
Progress Energy (CP&L) 
makes donation to further 
Monitoring data collected by the South Carolina Department of Health and 
progress at Baker's Trail, 
the outdoor classroom project 
Environmental Control in the late 1990's required that Thompson Creek upstream of 
at the Blenheim Schools.  
the Town of Chesterfield be placed on the State's list of impaired waters. The Pee Dee 
Page 3. 
RC&D formed a coalition of local, state and federal interest  from North and South 
Carolina to assess the causes of the impairment with the intent of eventually restoring 
the Creek's water quality to acceptable levels.  The assessment phase is nearing 
Pee Dee Land Trust plans  a 
June Membership meeting at 
completion with the primary identified causes being that livestock, mainly beef cattle, 
Kalmia Gardens with Rudy 
have unlimited stream access at many sites; and rainfall runoff contaminated with 
Mancke. Page 3. 
poultry and livestock waste is reaching the stream. The project recommends 
agricultural manager training in the area of manure management, installation of more 
streamside buffers with  filtering vegetation adjacent to fields receiving poultry and 
Pee Dee Regional Urban and 
Community Forestry Project 
livestock waste applications, and excluding livestock from free stream access by 
is underway.  Page 4. 
fencing buffer areas and providing alternative sources of livestock drinking water.  
Current Efforts  Page 2.    
The Project Coalition discussed plans for separate implementation projects, one in 
North Carolina and another in  South Carolina using both federal and state grant 
funding to provide cost sharing to local landusers for voluntarily establishing the 
recommended water quality practices. 
For additional information concerning the Thompson Creek Non point Source Assessment Project, visit: 
 http://thompsoncreek.tripod.com
  or call (843) 393 9809 ext. 4. 
Funding for this project is provided by the US EPA under a section 319 grant through the SC Department of Health 
and Environmental Control (SC DHEC).